Solutions pour les entreprises
SOLUTIONS FOR COMPANIES

Pari-Grandir permet aux entreprises de faciliter le quotidien de leurs employés-parents en préservant leur équilibre entre vie familiale et vie professionnelle. Grâce à ses horaires souples (8h-20h) et à sa proximité, le centre ludo-éducatif bilingue Pari-Grandir est la solution idéale aux problèmes de garde d'enfants de 3 à 10 ans que connaissant les parents actifs. 
Chaque mercredi et durant les périodes de vacances scolaires, le centre ludo-éducatif bilingue Pari-Grandir devient un véritable petit centre de loisirs, proposant de nombreuses activités culturelles et artistiques ainsi que de nombreuses sorties en tout genre. La principale originalité de cette structure réside dans le fait qu'une partie de ses animateurs sont de langue maternelle anglophone et s'expriment uniquement en anglais avec les enfants.

SOLUTIONS FOR COMPANIES
Pari-Grandir can provide solutions for companies that want to help out in the adjustment of the personal and professional life of their employees. Thanks to our location and our flexible hours, the bilingual edutational center Pari-Grandir is the ideal solution for children for 3 to 10 years old and their working parents.
AND DURING THE HOLIDAYS...
Pari-Grandir can become your own leisure center during Wednesdays or the school holydays because of the different cultural activities it has to offer and the diversity of the outings we propose. What differentiates this center from others is the fact that all of the entertainers are English native speakers and address the children exclusively in English. English is the only language used during a lot of the edutainment activities such as yoga kids, quiz, theater, art and etc. Which means that the children learn English not only through fun but also by every day life (during presentations, food and etc.) Pari-Grandir offers the possibility to take care of the companies « Family day » : – Explaining to children the functioning of the company and their parents job – Entertainment adapter with the activities of the companies – Exchange between the employed parents A wide network of professional entertainers and quality artists

Pari-Grandir propose aux entreprises de prendre en charge l'organisation de leur « Family Day »:
- Découverte de l'entreprise et du métier des parents
- Animations thématiques selon le secteur d'activité de l'entreprise
- Echange entre salariés –parents
- Réseau d'intervenants et d'artistes professionnels de qualité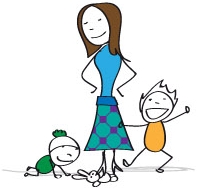 Pari-Grandir propose aux entreprises de prendre en charge l'organisation de leur « Family Day »:
- Découverte de l'entreprise et du métier des parents
- Animations thématiques selon le secteur d'activité de l'entreprise
- Echange entre salariés –parents
- Réseau d'intervenants et d'artistes professionnels de qualité